Travel Back in Time at Glen Oaks Ranch
At the busy junction of Highway 12 and Arnold Drive, just outside of Glen Ellen, stands a piece of Sonoma Valley history.
Tucked at the end of a narrow dirt road lined with towering eucalyptus trees is one of Sonoma Valley's oldest homes, a Civil War-era stone mansion that has withstood the test of time and nature's challenges of fires and earthquakes. Surrounded by oak woodlands and open meadows, flowing creek waters and a small vineyard, Glen Oaks Ranch is a unique place in Sonoma County, offering visitors an experience of early California.
Glen Oaks Ranch is older than the town of Glen Ellen. Its original owner, Colonel Charles Stuart, first named it "Glen Ellen" after his wife, Ellen, but later changed its name to "Glen Oaks" after the town of Glen Ellen grew around him. Before it was a working ranch, Native Americans fished for steelhead in Stuart Creek and gathered acorns from the surrounding oak trees.
The ranch has had a handful of owners, including some notable historical figures, like General Mariano Vallejo, who owned the land before Stuart, and Roswell Cochran, the original "Mad Man" of high-powered Madison Avenue. Traces of their presence are scattered throughout the house: a 19th Century chair "Reserved for the General" awaits Vallejo's presence and memorabilia from Cochran's famed advertising campaigns remain. Charles and Ellen Stuart themselves became notable figures — Charles became one of the largest wine producers in the state and Ellen one of California's first women winemakers. Their vineyard, though wiped out in the late 1800s due to disease, was later replanted and functions as a working vineyard today.
Read more on the history of Glen Oaks Ranch here.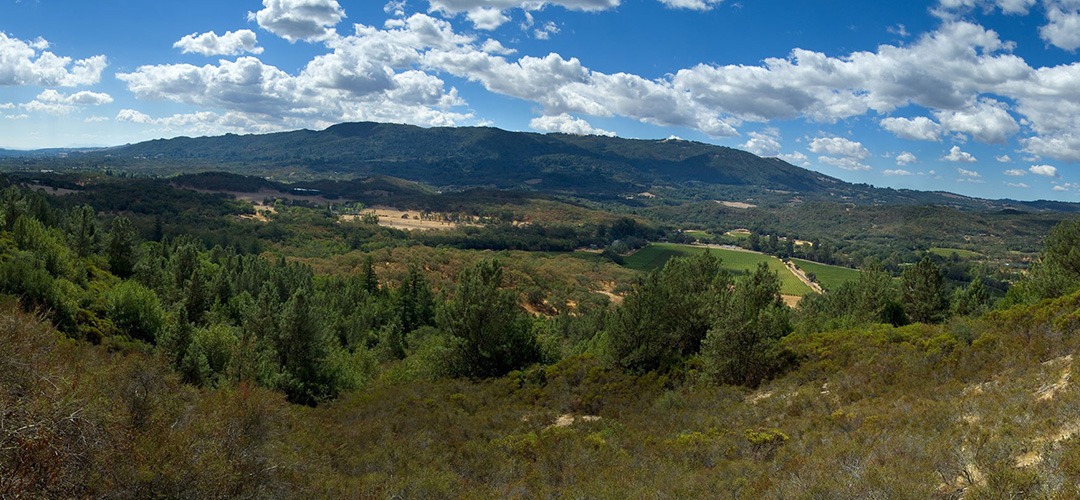 Preserving History and the Land
The 234-acre property, including the historic house, barn and outbuildings, was bequeathed to Sonoma Land Trust in 2001 by Joan Cochran. The daughter of previous owners Roswell and Camille Cochran, Joan devoted herself to the restoration and protection of the family ranch. Through her efforts, it was deemed the most intact 19th Century agricultural complex in the Valley of the Moon and, in 1994, was accepted into the National Register of Historic Places. Joan also replanted the historic vineyard and protected the ranch by granting a conservation easement to the Sonoma County Agricultural Preservation and Open Space District.
In addition to the historic value of the property, Glen Oaks Ranch features some of the finest oak woodlands and chaparral in the Sonoma Valley, with stunning views and a portion of Stuart Creek, a steelhead habitat waterway.
Glen Oaks Ranch's location between other protected conservation properties (our 300-acre Secret Pasture Preserve and 500-acre Bouverie Preserve are both neighbors) means that wildlife benefit from more than 1,000 acres of connected, open space habitat. Indeed, the Sonoma Valley Wildlife Corridor runs through the property.
As one of Sonoma County's oldest properties, Glen Oaks Ranch is a special piece of Sonoma County's cultural landscape and conservation history.
Historic Mansion
With the exception of the 1940s ranch house, the structures on the property, mostly built about 1865−70, are non-functional. We spend a lot of time each year maintaining and improving them, yet it would require resources beyond our means to upgrade the "mansion" so that it is structurally sound and habitable. Nonetheless, we get closer each year to what it must have looked like a hundred years ago.
Wildlife
The 234-acre Glen Oaks Ranch is a key part of the Sonoma Valley Wildlife Corridor, which provides wildlife with contiguous habitat to use for safe passage when traveling to and from Marin and Napa Counties. Linkages such as this are essential for maintaining healthy wildlife populations and Sonoma Land Trust, along with partner organizations, conducts ecological studies to monitor the wildlife activity within the corridor. These studies show us who is benefiting from the corridor and how, like these coyotes.
Public Outings
Glen Oaks Ranch holds a lot of value for wildlife, and it is also one of Sonoma Land Trust's most visited properties by animals of the two-legged variety. Frequently used for outreach and education, this accessible and scenically stunning property is the stage for public hikes, outings and educational workshops. Thus, the challenge for the Land Trust is to strike a balance between these sometimes conflicting uses of the land so that we maintain the property's ecological integrity while allowing for appropriate kinds and levels of recreation and enjoyment.