Lakeville Creek Restoration Project
Restoring to Stage Zero on Sears Point Preserve
Sonoma Land Trust is recharging groundwater aquifers, protecting biodiversity, and supporting climate ready ecosystems, one stage at a time.

Restoration work started in August 2023.
Introduction
A creek restoration approach called "Stage Zero" is making its Bay Area debut. The restoration project will rehabilitate a 4,200-foot reach of Lakeville Creek, a seasonal tributary to the Petaluma River that links the watershed on the hills of Sears Point Ranch, to the historic water's edge of the San Pablo Bay. Sonoma Land Trust was awarded $2.2 million from the California Department of Fish and Wildlife (CDFW) for this project and will be initiating the work this summer with Prunuske Chatham, Inc (PCI), ecological consultants.
Lakeville Creek is not a creek you might have heard of or can easily spot on a map. It's a deeply eroded channel that developed over a century of heavy grazing and other land uses on the slopes of the 1,142-acre Sears Point Ranch Preserve. At one time, this seasonal creek valley supported dense wetland vegetation from its upper reaches to the historic bay margin (the boundary used to identify where the bay previously met the land).
Julian Meisler, Sonoma Land Trust's Baylands program manager, is leading this endeavor and shared his thoughts. "Stream valley restoration projects will become increasingly common in similar settings within California in the coming years because they are effective in restoring the natural processes that make us more resilient to climate change. By returning the missing elements and giving them the time and space to work, the land can capture and store water to help sustain us through droughts, provide moisture for habitats to support wildlife and those habitats become more resilient to wildfires by remaining wetter longer."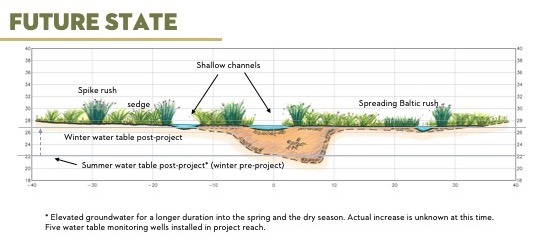 Sears Point Preserve
He added, "Back in the early 2000s, Sonoma Land Trust saw an opportunity at the 2,327-acre Sears Point Preserve to positively influence every raindrop from the sky to the bay by protecting and restoring this small watershed. It was purchased specifically for that reason, to restore the grasslands, streams, tidal wetlands, and the processes that connect them. This means connecting habitats for the burrowing owls and silverspot butterflies of the grasslands, red-legged frogs of the freshwater wetlands, and the ridgeway rails and shorebirds of the tidal wetlands."
This project will build upon Sonoma Land Trust's two-decades of extensive, landscape-scale wetland restoration program in the baylands using the most successful technology available – nature-based solutions. This project is impressive in scale in that it requires moving nine hundred dump trucks of dirt to fill the eroded channel, adds thirty thousand native plants to create habitat for threatened species, and increases climate resilience that addresses sea level rise, wildfire, and drought.
---
Transitioning to a thriving ecosystem
Lakeville Creek looks very much like other eroded ditches found throughout Sonoma County and the American west. These eroded waterways are problematic and are drawing the attention of restoration practitioners because they drain water quickly off the land before it can sink into the soil, recharge aquifers, and hydrate habitat that can resist drought in dry seasons. Simply stated, they exacerbate flooding, increase susceptibility to wildfire, and prevent wetland vegetation from developing, leaving no place for the species that rely on them, such as the threatened California red-legged frog. These wetland or riparian ecosystems are incredibly valuable and provide filtered water, carbon sinks, and more importantly, they support a greater variety of biodiversity (plants, fish, birds, etc.) and are home to more threatened and endangered species than any other habitat in California. Restoring our remaining wetlands is a key component to creating a buffer from the worst effects of climate change.
Conceiving of Stage Zero took time but is quickly being adopted
It may come as no surprise to learn that this new concept for creek restoration was co-authored by a NOAA scientist who lives right here in Sonoma County. Brian Cluer is a scientist who has studied the degraded states of streams, creeks, floodplains, and wetlands here in our county and in the Pacific Northwest. In an influential paper published over a decade ago with Colin Thorne, an environmental scientist from the United Kingdom, Brian argued that the eight stages of creek evolution were not comprehensive enough and lacked the preliminary state present in some streams, something that is now referred to as "Stage Zero." They explain in the paper that a preceding stage in these types of creeks looks more like a wet meadow than a flowing stream and is comprised of dense wetland vegetation with multiple low swales running through it, instead of a single channel. These swales are marshy depressions in the stream valley that you might not even notice unless you tried to walk across them. Because the Stage Zero wetland holds moisture over longer periods of time, it recharges ground water supplies and sustains ecosystems for wildlife while also reducing the risk of wildfire.
"River [and stream] restoration has evolved in the last decade to consider the valley that a channel is part of. Valley restoration has become common in Oregon and recently in mountain meadows in the Sierra's, but this will be the first valley restoration following the concept of Stage Zero in the Bay Area," said Brian Cluer. "We expect the water table to recover by filling the incised channel and a higher water table will support a much larger wetland complex that will be more resilient to drought."
Preparing for Climate Change
In the coming decades, California is projected to continue to warm, heat waves will increase in intensity and duration, sea level will rise several feet, and extreme storms and droughts are expected to become more frequent. The San Pablo Bay will be impacted by all these stressors, as acknowledged in the 2015 Baylands Ecosystem Habitat Goals Science Update. One of the primary recommendations of the 2015 report is to restore complete ecosystems by connecting tidal ecosystems to their upland watersheds.
How did Sonoma Land Trust discover the concept for Stage Zero?
Though the concept of Stage Zero builds on decades of academic study and field research, the idea to bring it to Lakeville Creek emerged when Sonoma Land Trust staff and restoration partners discovered that the creek upstream from the Sears Point Preserve on Sonoma Raceway's property presented the textbook characteristics of a Stage Zero creek valley. It was vastly different than the 4,200 feet of the eroded Lakeville Creek channel and confirmed that this new approach to restoration held its promise to create a functioning system that achieved the goals we were aiming for.
After studying the property with the design team at Prunuske Chatham, Inc. (PCI), we pursued funding for a design based on the Stage Zero concept. Brian Cluer, the NOAA scientist and co-author of the paper on Stage Zero restorations, agreed to join our technical working group and confirmed that the site was appropriate for this new approach to restoration and he pulled in Paul Powers from United States Forest Service to join the team. Together, Brian, Paul, PCI, staff from the land trust, and a technical working group composed of regulatory agencies worked on the design, applied for the permits, and were recently awarded $2.2 million by the California Department of Fish and Wildlife for construction. The project received a statutory exemption from CEQA as part of California's Cutting the Green Tape initiative to fast-track restoration projects that meet their criteria and has received input from the local tribes required for the exemption. This project was the second project in the state to be successfully awarded this exemption.
What will construction look like?
Restoring thousands of feet of eroded stream channel to a Stage Zero wet meadow requires filling it in with nearly nine hundred dump trucks of soil. Importing soil is prohibitively expensive, but fortunately, careful analysis by PCI identified several hillsides adjacent to the creek had been sculpted by bulldozers many decades ago to try to stop hillside erosion. The dirt that was moved in that process was pushed into the creek in the upper segment of the project area. Conveniently, we will move that soil to fill the eroded sections and provide a rebalancing of the landscape throughout the project area using materials already close at hand.
Credit: Cat Chang
Credit: Colby Hines
Biodiversity wins!
To stabilize the soil and to create the future habitat will require planting of tens of thousands of native wetland plants and willows, re-seeding of disturbed areas, and protecting the vegetation already in the area. This includes taking special consideration to protect existing populations of Viola pedunculata (also known as the California Golden Violet, or as the johnny jump up) which is the larval host plant for the callippe silverspot butterfly (Speyeria callippe callippe), a federally recognized endangered species. The only population of callippe silverspot butterfly in Sonoma County is reported in the project vicinity and additional johnny jump up plants will be added to expand the host plant population for the butterfly. In addition, nectar-producing plants are also included in the project revegetation plans to expand food sources for the butterfly across the project area.
A monitoring schedule over a minimum of five years will be required to track how the vegetation takes hold and the changes to the water table levels. If the project is successful, monitoring reports will track significantly higher water table levels in the summer which will sustain the new habitat through future droughts. In the long-term we expect to see a variety of wildlife using this habitat for shelter, foraging, and as a corridor between the baylands and the uplands.
Additional information about Stage Zero projects can be found: http://stagezeroriverrestoration.com/index.html