A season of gratitude starts here
As we inch closer toward the end of the year and the holidays, we at Sonoma Land Trust are reflecting on how fortunate we are to have such dedicated, passionate members! In this month's eNews, you'll meet Arthur Dawson and Alex Hong, two extraordinary nature-lovers we're lucky to call friends and supporters, and learn more about Giving Tuesday, a chance to double your gift's impact thanks to the generosity of Ginnie and Pete Haas. You'll also meet two new staff members Julia and Grace, and you'll likely get to know Grace well as she'll be planning and hosting events for you and our other amazing community members.
Of course, I wouldn't be a good Director of Philanthropy if I didn't encourage you to make a donation during our $1.6 Million End of Year Challenge. Not only will your contribution have tremendous impact, you can feel good about the independent entities that rigorously review our organization and rate us as one of the highest in the nation for effectiveness, transparency, and excellence in conservation. Thank you for being part of the Land Trust community, for your support, and for doing your part to conserve our beautiful Sonoma County landscapes.
Wishing the happiest of holidays to you and yours,
Shannon Nichols
Director of Philanthropy

Mapping the poetic landscape of Sonoma
Arthur Dawson is well-known in Sonoma County for many reasons—he was a historical ecologist for the Sonoma Ecology Center, owns a respected private consulting business, and is a trusted resource for many aspects of conservation work. While devoting much of his career to land preservation, behind the scientific reports and advocacy is a man who began his career as a teacher and poet.
If he's not out on the land or in any number of advisory or planning meetings, you might find Arthur Dawson across from the Jack London Saloon in Glen Ellen in his Baseline Consulting office . For over 15 years, Arthur has provided historical and ecological information to landowners, property managers and public organizations and has amassed an extensive collection of data and research. His shelves are filled with myriad binders detailing much about the natural and cultural history of Sonoma County, specifically Sonoma Valley. And there is at least one trophy amongst the reports.
Arthur is well-known locally – he was an historical ecologist for the Sonoma Ecology Center before venturing out on his own as a private consultant. While devoting much of his career to land preservation, behind the scientific reports and advocacy is a man who began his career as a teacher and poet.
He tells of hearing Gary Snyder when the poet came to Sonoma in 1996. "I'll never forget his comment, 'Our job is to become natives of where we live.' That was a turning point for me and gave me an idea."  Arthur had already been teaching with California Poets in the Schools for several years and thought, "Wouldn't it be great to have students writing about where they live." In 1998 he published When Oaks Play Catch with the Sun; Poems and Art by the Children of Sonoma Valley. The book was funded through community grants and in partnership with Sonoma Ecology Center. Arthur soon moved to working with the Ecology Center as an oral historian, producing a 300+ page, fully indexed book with sections on ecological categories and transcripts of interviews with many noteworthy elders. "Those interviews were like a second memory," he says, "stories passed on, like talking to my grandparents again."
Arthur grew up in semi-rural New Jersey.  He loved to explore on foot and later by bike, sometimes with his dad, through the deciduous forest that they called "The Woods," which covered about a square mile. One winter day, he got lost in The Woods during a snowstorm. "I was about 8-10 years old, with my younger sister. We walked a lot and couldn't find our way back. I remember getting very cold. We finally ended up on a road about ½ mile from home. By that time our parents were our searching for us." Several years later, that square-mile tract of woods was developed. He saw the forest he loved being replaced with houses. "I was mad.  I pulled up survey stakes. I didn't have much power but I did what I could."
As a young boy exploring nature, he felt a spirit, a connection with something bigger. He read and was influenced by Thoreau and John Muir. Through the years, Arthur has been able to channel his love for the land into productivity. His vast resume lists many presentations and publications in the areas of regional history and historical ecology. He thrives on conversations with people about the land. Several times he mentioned leading watershed walks both on the land and virtually. He speaks with a gentle yet knowing voice: "The generosity of the land brings out generosity in people.  The land sparks something in people, a love or reverence for something that's bigger than we are. I want to bring this passion to others, to spark their relationship to the earth."
In addition to his consulting work, Arthur is now chairperson of the Sonoma Mountain Preservation group. He sees the need to monitor how much to give, how to not burn out. And yet, in almost the same breath, Arthur shares his budding idea to bring kids up to the mountain so they can see a 360-degree view, see neighbors from across the valleys, see different perspectives. Arthur gets excited as he talks about continuing to educate younger generations about the land – their land. His eagerness is infectious.
"People change land. Lands change people. Here in Sonoma Valley people are generous; for example, they showed a lot of care after the fires in 2017. And after the fires, with no human action, trees started coming back. We don't have control, but we have a role. And we can work with the natural resilience of this place."
Arthur is optimistic. He draws from threads of ancestors and from Indigenous wisdom, along with the science he researches. He talks about the distinction between "prescriptive burning," which benefits people, and "cultural burning," which is intended to benefit all living things in the area, a collective benefit.
And he repeats: "The land is abundant and resilient." With great reverence and awe, he mentions an elderberry tree on his land that burned down to its stub in the fires. Now that tree is back and thriving.
When asked why Arthur and his wife Jill became members of Sonoma Land Trust's Legacy League, he replies: "The Land Trust is proactive. Becoming a member of the Legacy League is one way we can express gratitude and practice reciprocity for all the gifts we enjoy from this beautiful place.
Interview and article by Sharon Bard
Programming a reconnection with nature
Sonoma Land Trust member Alex Hong, a Sonoma County native who grew up in Rohnert Park, says he can't remember a time when nature wasn't important to him. "My earliest memories in nature are from elementary school, when we took field trips to local parks like Crane Creek, to learn about the California buckeye and California bay laurel trees. These are trees you see everywhere, and after learning more about them, I can now identify them, their seeds, and how different cultures use these resources."
Spending his childhood here shaped Alex's values – "as a Californian, the environment has always been top of mind for me." Throughout high school and college, Alex sought out environmental groups, like Sustainable Duke, that helped not only educate himself on issues like recycling and sustainability, but also allowed him to educate his community.
After graduating from Duke University in 2019 with a degree in Biology, Alex returned to Sonoma County to be closer to family. He was eager to get back to the outdoors after the pandemic, when he found Sonoma Land Trust's On the Land program that offers free hikes on their preserves. "I was really impressed with how Corby Hines led the many hikes I attended, he was so knowledgeable and also a great photographer." The outings that Alex attended also provided him with a different perspective of this special place he called home. "I've been on Bennett Valley Road countless times, but there was one outing where we were hiking the ridgeline above the valley, and to look down on it and the vast surrounding landscape from above gave me a new appreciation for that part of the county."
It was also on these hikes that Alex learned about our college internship program, where Sonoma Land Trust teaches students how to lead public hikes on the land. "It's great to see that Sonoma Land Trust has an internship program that provides an entry way for folks interested in stewardship to gain experience while they're still in school." Seeing students educating their communities around the environment reminded Alex of some of his volunteer work with communities around sustainability during his time in college. It was the internship program that ultimately inspired Alex to join Sonoma Land Trust as a member.
Alex continued to attend Sonoma Land Trust outings, as well as exploring other educational programming the Land Trust offers, like our Language of the Land webinar series. When Alex attended the Freshwater Flows for Fish webinar he said that "it was eye opening for me to learn more about the Russian River watershed. I knew that Seattle had a great watershed for coho salmon, but I didn't realize that we had an important watershed for coho as well. Sonoma Land Trust has given me knowledge and insight on why it's important to protect our watershed, and the understanding to identify how development, even in my neighborhood, could harm it." He looks forward to learning more about our work to protect coho salmon populations in the County.
Alex currently he works as a software engineer in the energy sector and doesn't spend as much time as he'd like in nature. But he feels that Sonoma Land Trust offers him a connection to nature, whether it's going out on a hike, attending a webinar or learning about the cutting-edge conservation work the organization is doing. "It helps me keep up and feel connected to conservation efforts happening here."
Save the Date for Giving Tuesday on 11/28: Double Your Impact for a Greener Future!
As we approach the season of gratitude and giving, we're thrilled to announce an extraordinary opportunity to make your contributions go even further. Mark your calendars for Giving Tuesday on November 28, where you can double the lasting impact of your generosity.
On this special day, Sonoma Land Trust is unveiling a matching gift opportunity of up to $100,000! Thanks to the generosity of Ginnie and Pete Haas, your donations will be matched dollar-for-dollar, amplifying your support for the preservation of open spaces in Sonoma County.
Ginnie and Pete Haas, dedicated supporters of the Land Trust, shared their thoughts on the crucial role of conserving land for all: "We appreciate what Sonoma Land Trust is doing to preserve open space in Sonoma County and provide access to all people in our community. We are mindful that it is so important to preserve open space for current and future generations now while this precious land is still available. It is our honor to support this effort and encourage everyone to join us and take advantage of this matching opportunity."
Your contribution will play a pivotal role in maintaining the natural beauty of Sonoma County. With every dollar you donate, Ginnie and Pete Haas will match it, effectively doubling the impact of your support.
Here's how you can participate:
Save the Date: Circle November 28 on your calendar and be prepared to make a difference on Giving Tuesday.
Spread the Word: Share the news with your friends, family, and colleagues by forwarding this email. Encourage them to join you in supporting Sonoma Land Trust on this special day.
Donate and Double Your Impact: On Giving Tuesday, visit sonomalandtrust.org/donate and make a contribution. Your donation will be matched, making your support go twice as far.
Stay Connected: Follow us on social media and subscribe to our eNews for updates on the impact your donations are making and future opportunities to get involved.
Let's come together as a community on Giving Tuesday to conserve the natural treasures of Sonoma County. Your support, combined with the matching gift from Ginnie and Pete Haas, will create a legacy of protected open spaces for generations to come.
Thank you for being a crucial part of this effort to ensure the beauty of Sonoma County endures for the enjoyment and benefit of all.
We value transparency
We're proud to meet the highest national standards for nonprofits and land trusts, and earn local awards!
The Platinum Seal of Approval from Candid (formerly known as GuideStar) signifies adherence to the highest standards of transparency, financial responsibility and ethical practices.
Our accreditation from The Land Trust Alliance Commission was earned after a rigorous review process and is awarded to those land trusts (465 in the US) that have demonstrated fiscal accountability, strong organizational leadership, and have sound transactions and lasting stewardship of the lands they conserve.
Finally, we received the 2023 Best Places to Work award from the North Bay Business Journal for our organization's culture, professional development, satisfaction, and overall wellbeing of our staff.
This award, seal, and accreditation are just three of the reasons you can trust Sonoma Land Trust to fulfill our promises to the communities we serve.
New staff introductions: Julia and Grace
Please join us in welcoming our new Land Acquisition Program Manager, Julia Elkin! Julia joins Sonoma Land Trust with over a decade of experience and a deep passion for making our human and natural communities more resilient to climate change. She has facilitated climate adaptation projects with shoreline communities throughout California and holds an MS in Environmental Policy and Conservation Ecology. In her free time Julia loves backpacking in the mountains, tidepooling along the coast, painting, drawing, and playing the flute.
We're excited to introduce you to our new Philanthropy Events Coordinator – Grace Martino! Grace brings a diverse background in music, arts management, event planning, and sustainable agriculture to her role, and is committed to making a positive impact through her work. Her experience ranges from, most recently, completing an organic farm apprenticeship, to overseeing productions and education programs for the San Francisco Girls Chorus, to leadership of the Long Beach Camerata Singers. Grace organizes the Sonoma Queer Folks Food Club, and in her free time enjoys cooking, hiking, kayaking, and film photography.
Survey
We want to hear from you! Please take our survey to tell us your interests, how you would like to be involved with our work, and how you think we're doing. It's easy to do, only occupies 10 minutes of your day, and your feedback truly matters to us! Please take and share the survey today
As a thank you gift, we will send you a Sonoma Land Trust sticker!
¡Queremos tus comentarios! Responde a nuestra encuesta para decirnos cuáles son tus intereses, cómo te gustaría participar en nuestro trabajo y cómo están yendo nuestros esfuerzos. Es fácil hacerlo, sólo ocupará 10 minutos de tu día, ¡y tu opinión nos importa de verdad! Por favor, realiza y comparte la encuesta hoy mismo.
Como regalo de agradecimiento, ¡te enviaremos un sticker de Sonoma Land Trust!
Watch On-Demand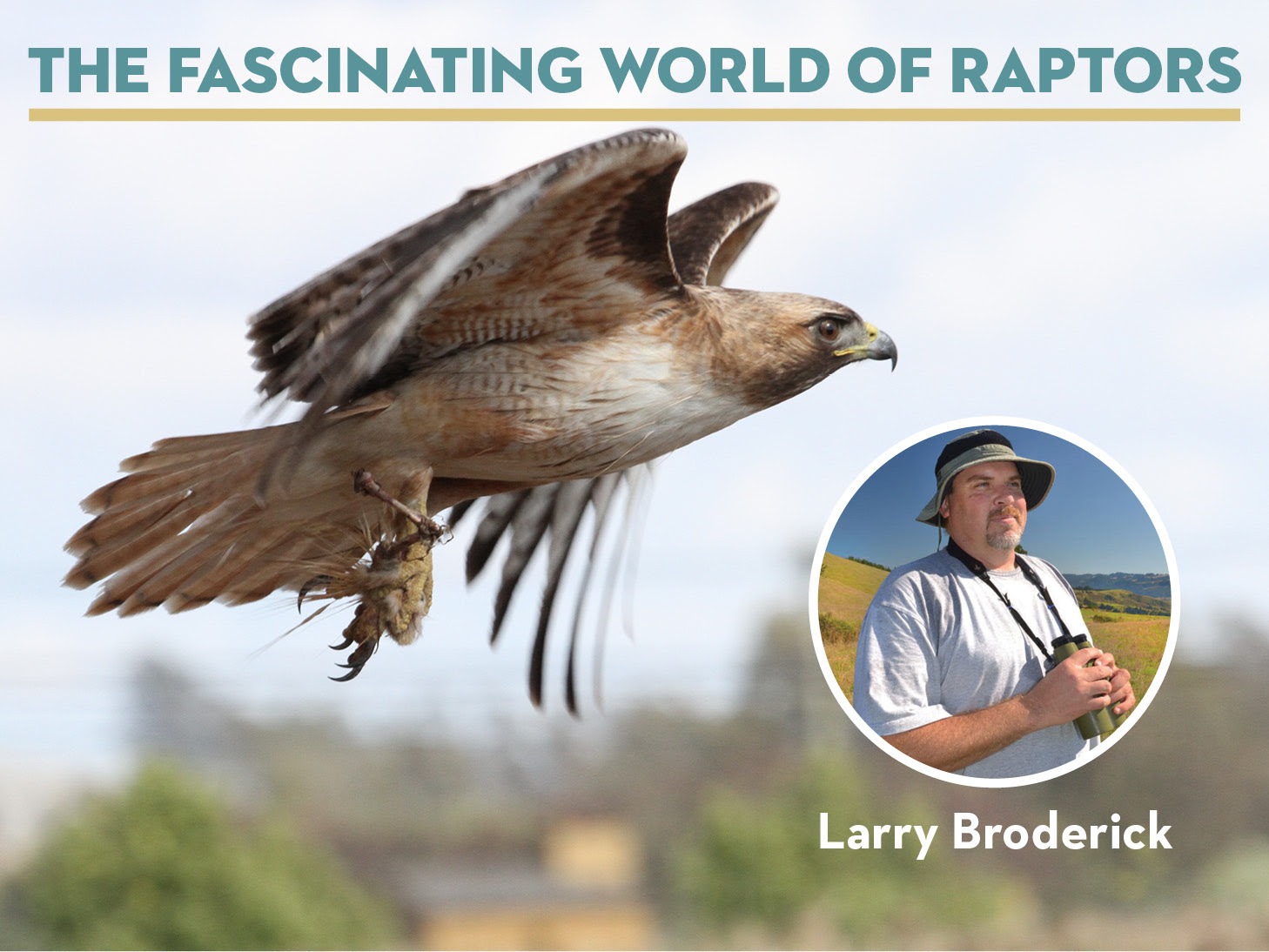 Language of the Land: Raptors in the Skies
In this webinar, California Certified Naturalist Larry Broderick takes us on an enlightening tour of the diversity of raptors that migrate down the Sonoma Coast each fall. We will enjoy a stunning visual display of close-up photographs and learn how to spot the birds in the skies. Drawing upon his decades of experience observing and documenting birds of prey, Larry gives us an insider's view into this fascinating world of flight.
Lengauje de la tierra: Rapaces en los cielos
Larry Broderick, Naturalista Certificado de California, nos llevará en un iluminador recorrido por la diversidad de rapaces que migran por la costa de Sonoma cada otoño. Disfrutaremos de una impresionante visualización de fotografías en primer plano y aprenderemos a detectar las aves en los cielos. Basándose en sus décadas de experiencia observando y documentando aves rapaces, Larry nos ofrecerá una visión desde dentro de este fascinante mundo del vuelo.
Outings
Join us out in nature this month! We'll be exploring the tidal marsh at Sears Point, hiking up Pole Mountain, enjoying the beauty of historic Glen Oaks Ranch. Visit our outings page to learn more and register.
12/2/23 Sears Point Marsh Walk
12/3/23 Adventure Hike up Pole Mountain
12/9/23 Glen Oaks Ranch Walk