Bumper to Bumper
More than 40,000 cars drive along State Route (SR) 37 daily, flooding the 21-mile roadway with bumper-to-bumper traffic on their way to Marin, Sonoma, Napa and Solano Counties. Drivers, already facing lengthy commute times, are likely in for worsened congestion as the population increases. On top of that, rising sea levels are causing another headache for commuters: flooding. In 2017, catastrophic flooding closed the highway for nearly a month and it's only likely to get worse with climate change.
The highway sits parallel to the northern arc of San Pablo Bay — an extension of San Francisco Bay. Characterized by tidal and seasonal wetlands, the bay serves as an important buffer between urban areas, agricultural land and infrastructure — including Highway 37.
The redesign of State Route 37 — currently in early planning — represents a once-in-a-generation opportunity, as well as a potential threat, to achieving conservation goals for North Bay tidal wetlands. A redesign of this major thoroughfare will directly affect the ecological health and resilience of thousands of acres of wetlands along the North Bay shoreline and impact the future of decades of conservation investment in the region's wetlands.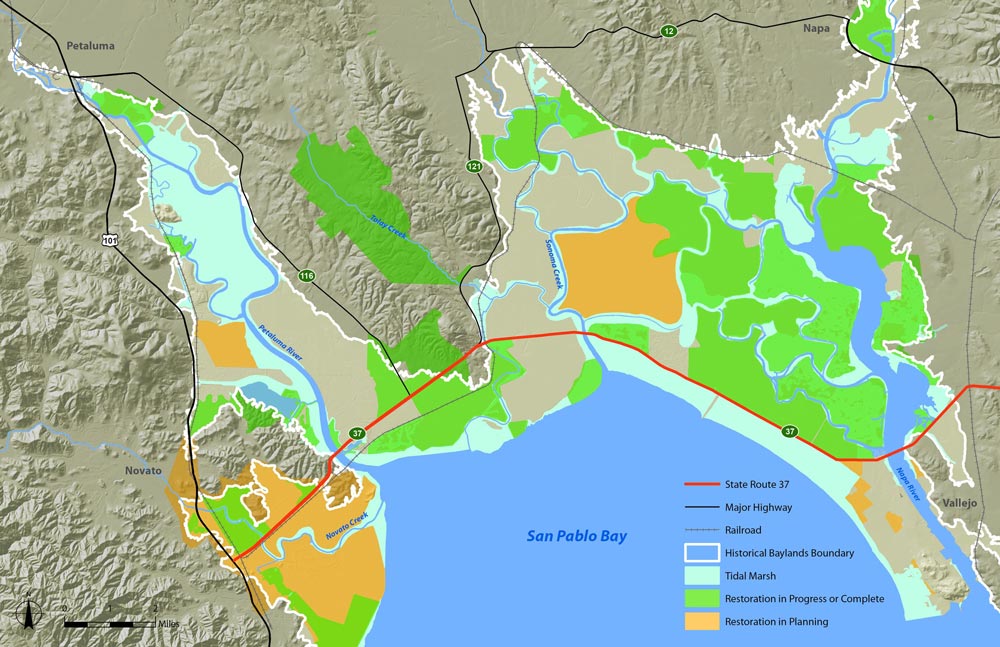 Redesigning a Highway
The need for redesigning the highway is apparent; however the redesign must protect the values and services that the surrounding natural and agricultural landscapes provide. Significant public investments have already been made along SR 37 to protect and restore wetlands and connected habitats, increase climate resilience and protect infrastructure, including SR 37. Continued investment in long-term resilience now will pay enormous dividends for future generations.
Sonoma Land Trust, along with North Bay wetland land managers, ecological restoration practitioners and other stakeholders, formed the State Route 37−Baylands Group to represent the interests of the wetlands during the redesign. Sonoma Land Trust and the State Route 37−Baylands Group are working closely and cooperatively with the Metropolitan Transportation Commission and Caltrans on this effort. We are committed to ensuring that the redesign is in line with and advances the ecological restoration and conservation goals for the San Pablo Baylands.
The State Route 37−Baylands Group prepared a white paper to provide recommendations to the highway redesign. Read it here.
Additional Resources
For more information about the highway redesign and the State Route 37−Baylands Group, visit their website.